Der zweite Teil von Supra Footwears "Pro + AM" dreht sich um den Erik Ellington Schuh und der Spencer Hamilton Colorway. Wieder durfte sich ein Amateur Fahrer einen Pro Schuh aussuchen und diesen nach seinen Vorstellungen "designen".
October 8, 2012, Fountain Valley, CA–The SUPRA PRO + AM Collection features four signature pro model shoes redesigned by four different ams. The second installment in the PRO + AM Collection is a signature Erik Ellington shoe with a Spencer Hamilton designed colorway.
Spencer Hamilton's Ellington colorway has a black suede upper with black, open cell mesh side panels, fluorescent orange accents, padded fluorescent orange mesh lining, black and orange rope laces, and it's built on a translucent white outsole with a lightweight, speckled black/orange SUPRAFOAM midsole. Each pair comes with a custom PRO + AM sock liner and hang tag.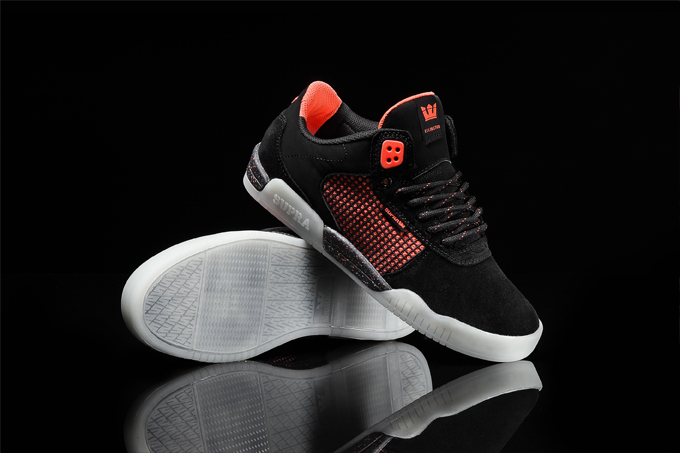 I've been on a bunch of trips with him," Erik said about Spencer, "and I'm blown away every single time I skate with him. He's one of the coolest, mellowest dudes around and he's always in control and on point. I'm proud to share a shoe in the PRO + AM Collection with him. He came up with a colorway that kills it."
"It's just a straight honor," Spencer said about doing a shoe with Erik. "I've always liked what Erik does as far as skating, he has a great personality, great character. I mean his part in the Thrill of it All was probably the first part I ever saw. I used to watch that part all the time."
Spencer was vague about the influences for his PRO + AM colorway, but he did cite at least two references that are evocative of his native Canada: the fluorescent orange of a hunter's vest and the net of a hockey goal. "Yeah, you're not getting shot," Spencer said regarding the fluorescent orange accents. "At least not in the feet."
To view Spencer's commercial and see his Ellington colorway, visit suprafootwear.com. The shoe is now available at better skate retailers worldwide, and suprafootwear.com.
"