Supra Footwear präsentiert die Pro + AM Collecition mit diesemTerry Kennedy und Kevin Romar Videoclip. Die Kollektion besitzt vier verschiedenen Pro Model Schuhe, die alle von vier Supra AMs designt wurden.
Der erste Schuh dieser Serie ist der Terry Kennedy Schuh mit dem Design von Blinds Kevin Romar.
Fotos vom den Schuh gibt es unter dem Videoclip.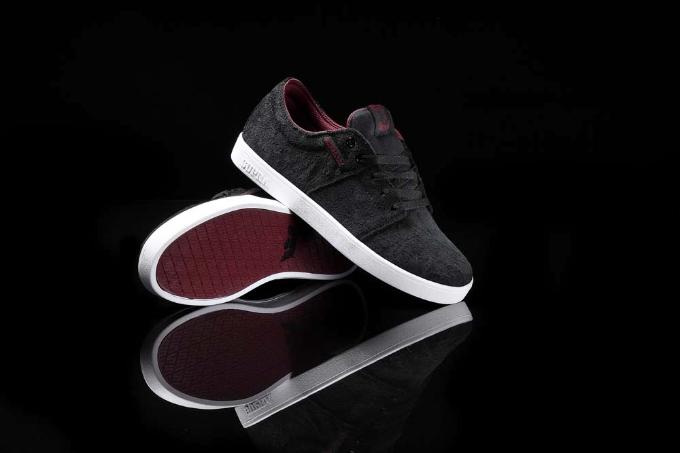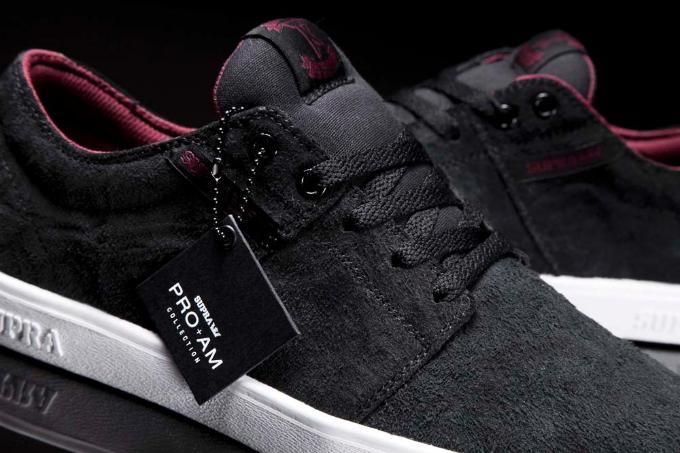 The SUPRA Pro + Am Collection features four signature pro model shoes redesigned by four different ams. The first installment in the Pro + Am Collection is a Terry Kennedy signature Stacks with a Kevin Romar designed colorway.
The Romar Stacks has a unique, black, nappy suede upper with burgundy accents, burgundy mesh lining, a PRO + AM sock liner and hang tag, all on a burgundy cup sole with white sidewalls.
The colorway is dope," Terry said about the shoe. "I like the suede, it's kind of like a brush, like an afro almost. When I looked at it that was the first thing that came to my mind: looks like an afro. I've never seen that material before. It's super interesting."
"I got inspired by my hair: it's nappy black," Kevin said about the unique suede–now known as nappy suede–used for his shoe. "And I had to throw burgundy on there, that's one of my favorite colors. It's pretty much just burgundy and nappy, two things that go good together."
SUPRA has always taken pride, not just in the shoes it creates, but also in the sense of community and camaraderie that is cultivated among its team members. The PRO + AM Collection is a corporeal manifestation of the mutual respect all of the SUPRA team riders have for each other. Giving Kevin Romar a colorway on a Terry Kennedy Stacks was an obvious pairing since the two hail from Long Beach and have had a long-standing relationship since before becoming SUPRA teammates.
"I've known Kevin since he was young," Terry said. "He used to be up there at El Dorado [Long Beach skatepark] all the time just ripping. Always cool, always quiet, always polite."
"We've been homies ever since," Kevin said. "And of course it's his shoe–I like to skate in his shoe. Kind of a no-brainer."
"